THOROUGHLY MODERN VICTORIA ~ UPDATING AN OLD FASHIONED GIRL
Our lovely lady has been identified in archived records as the Isaac Brown House. "A highly picturesque, 2-½ story….house with a 3-bay façade and a large turned-post and jig-saw trim veranda."  She will maintain her picturesque stature on the hill chosen by the Brown Family as her grand pedestal, but will receive a new outlook from within.  Our goal is to maintain her outer appearance, while using today's modern technologies to make her energy efficient.
She is now more prepared for the extremes of New England weather with a blanket of closed cell spray foam insulation.  Her new life-time warranted "Slate Blend" asphalt roof gives our girl a slight redhead attitude.  We have power-washed the basement ceiling and existing floor system and treated them with E.P.A. approved after-shock, which blocks the growth of mold.   A new hydro-air heating system is being installed. It will offer two zones of heating and cooling, and one zone for domestic hot water.  A new 4-bedroom septic system has been installed to meet current code.  The rough stages of plumbing and electrical work have been completed.
She will see her sprawling surroundings with new "eyes". Her old 2/2 vertical windows have been updated to energy-efficient, yet similar in appearance, versions.  Custom made mahogany doors, fabricated in our in-house cabinet shop, will add warmth to the welcome of all who cross her natural oak threshold.   Efficient access to the basement has been added with a modern-type bulkhead door with old-time style. These are the beginnings of her new outer glow.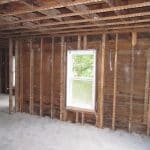 The veranda has been completely reframed and decked, ready for lazy summer porch swing afternoons.  The decking on the porch is 1X4 IPE, better known in the industry as "iron wood" because of its durability.  Exterior trim will be replaced with PVC trim and painted.  Details in the decking and posts will retain her historic charm.
Victoria boasts a sweeping formal staircase and secondary staircase off the kitchen.  The secondary staircase, not wide enough to meet current codes, we found could be made into a better use of space.  Removing the staircase allowed for addition of a powder room on the first floor.  The space created on the second floor will become a part of a more contemporary-minded master closet space.  The section of the staircase leading to the basement was relocated to an entirely different place within the center of the first floor.
Restoration of the grand staircase as well as the uniquely patterned maple floor in the formal living room will be some of her next steps of progress. A fresh layer of plaster will set the base for dressing her up for her updated debut.
Our main challenge now, is how to dress her exterior.  She is, after all, the redhead on the hill. The search is on for the perfect color compliment for our old-fashioned, updated girl.
[Note from the Contractor: suggestions/photos of traditional exterior Victorian color schemes can be submitted via email to the address listed at the bottom of webpage.]